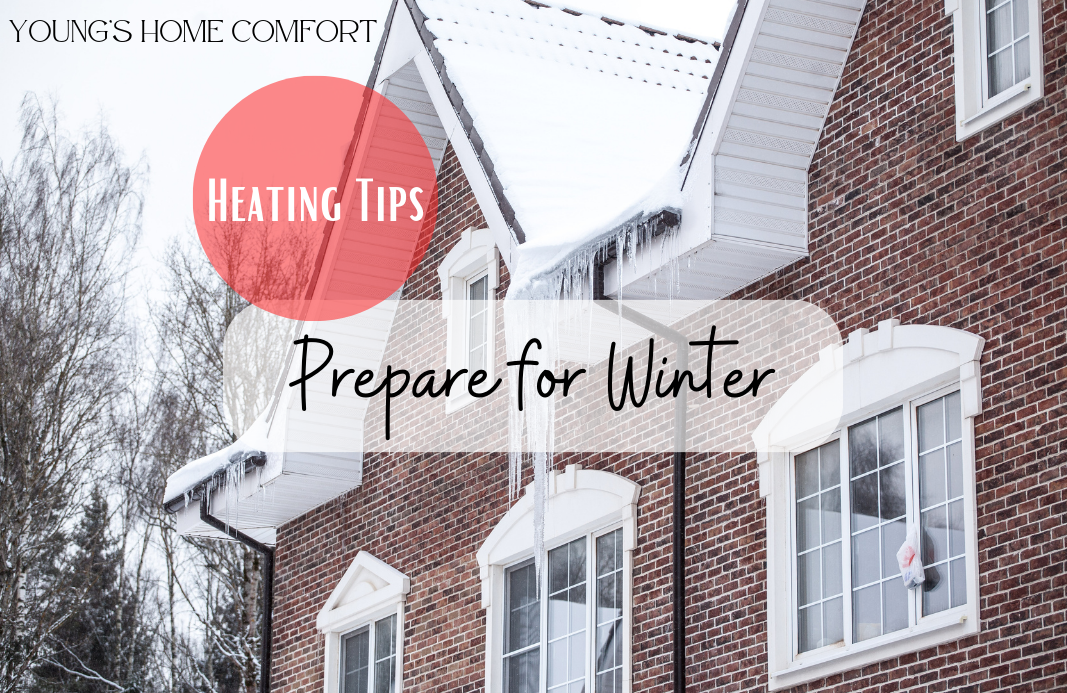 Heating Tips: How to Prepare Your Home for Winter in Pennsylvania
October 30, 2023
As the days grow shorter and the air becomes crisp,  the need to prepare your home for winter with adequate heating is quickly approaching. Living in Pennsylvania means we're no strangers to cold, snowy winters, and that's why it's crucial to prepare your home for the season. At Young's Home Comfort, we understand the importance of a warm and cozy home during the colder months. In this blog, we're going to share some essential heating tips to help you get ready for winter in Pennsylvania, whether you rely on HVAC systems, heating oil, or both.
Schedule an HVAC Check-Up
Before winter settles in, it's essential to have your HVAC system inspected by a professional technician. An annual check-up will ensure your system is in optimal condition, free from any issues, and ready to keep your home warm during the winter. Regular maintenance can extend the lifespan of your HVAC system and improve its efficiency, which will ultimately help you save on energy bills.
Change Your Air Filters
Dirty air filters can strain your HVAC system, making it work harder and less efficiently. To ensure your heating system operates smoothly, have your air filters changed or cleaned regularly. During the winter months, let Young's check your filters monthly and replace them if they appear dirty or clogged. Clean filters ensure good air quality and energy efficiency.
Insulate Your Home
Proper insulation is crucial to retaining heat and keeping your home comfortable during the winter. Check for gaps and drafts around windows, doors, and other openings. Seal them using weatherstripping or caulk. Also, consider improving your home's insulation, especially in the attic and walls. Well-insulated homes not only stay warm but also save you money on heating costs.
Upgrade to a Programmable Thermostat
Investing in a programmable thermostat is a wise decision that offers both comfort and energy savings. You can set the thermostat to lower the temperature when you're away or asleep and have it automatically raise the temperature when you need it. During extended cold snaps, make sure not to set/program back thermostats due to the risk of frozen pipes. This way, you can keep your home cozy without wasting energy. The Young's Home Comfort team will not only help you choose the right programmable thermostat for your home, but we will also install it and teach you how to use it!
Consider Heating Oil Services
If your home relies on heating oil, it's crucial to stock up before winter. Ensure you have an adequate supply to last through the cold months. Additionally, if you have an oil furnace, consider scheduling a professional cleaning and inspection to ensure it's running efficiently and safely. We let you pre-purchase your heating oil, and we keep it in stock on-premise. Many companies don't have your pre-paid oil on hand which can lead to insufficient stock when you need it most.
Use Zoned Heating
Zoned heating allows you to control the temperature in different areas of your home separately. This can be incredibly beneficial if certain rooms are rarely used or have different heating needs. Keeping everyone in your home comfortable can be a challenge when you are relying solely on one temperature for the entire house. Zoned heating can help you save energy and money by heating only the areas that require it.
Emergency Preparedness
Winters in Pennsylvania can sometimes bring power outages due to extreme weather conditions. Be prepared by stocking up on essential emergency supplies, including blankets, flashlights, batteries, and non-perishable food items. Additionally, consider installing a backup generator to ensure your home remains warm and comfortable even during power outages.
Although we strongly advise opting for our automatic oil delivery service or providing us with a 48-hour notice for will-call deliveries, we understand that running out of oil can sometimes be unforeseeable. At Young's Home Comfort, we've got your back. We offer an emergency fuel delivery service for those unexpected situations. In the event that your oil tank runs empty, our dedicated team members are available day and night to provide emergency oil deliveries. Rest assured; we will make every effort to promptly restore warmth to your home.
Ready to Prepare Your PA Home for Winter?
Preparing your home for winter in Pennsylvania is essential for maintaining comfort, energy efficiency, and cost savings. Whether you rely on HVAC systems, heating oil, or a combination of both, these tips will help you ensure your home is ready for the colder months. At Young's Home Comfort, we're here to assist you with all your heating needs. Don't hesitate to reach out to our experts for guidance, maintenance, or any HVAC and heating oil services you may require. Stay warm and cozy throughout the winter, Pennsylvania, call (215) 234 – 4351  today!
Related Articles